No matter how old your child is, a themed birthday party is always a must! One of the little girls I used to nanny for in college asked her mommy for a "Jesus" party three years in a row. Mommy made it as exciting and Christ-filled as she could! Right down to the buttercream cross on the cake, they were on top of it! (I'm not kidding!)
An obvious choice for any party is a favorite movie or tv show, but what about books? Eric Karle's famous children's book, "The Very Hungry Caterpillar" has delighted infants and toddlers for ages and there is so much you can do when using the bright and colorful pages of a children's book as a leaping off point! (Just make sure your child actually loves the book! My niece preferred "Brown Bear, Brown Bear." :)
Below you will find a number of ideas. Party hats correlating to the colors and theme of the book (You could even make these yourself, or for older children, include the hat-making as part of the festivities!) For any age (just vary parental participation depending on the age), the caterpillar made out of your child's handprints is adorable! Pass out plain white t's for babies to wear so they don't get too dirty, or maybe everyone gets their own matching bib! You could also have them paint with fruit cut out like a stamp (eg, apples and pears) to stamp stars or circles on the page! For babies, we have bibs and an awesome knit cocoon and hat you could use for pre-occasion portraits and then display at the party. How neat would it be to take infant portraits and then display those images at the child's first birthday party?!
For food, follow along the theme of the book! The Very Hungry Caterpillar is easy because it describes healthy options like fruit. Simply label everything with cute signage- really that's all it takes to delight and wow moms and youngsters alike these days! Plastic cups with a cute sticker, and a place to write the child's name? Easy!
I think we've all seen the delightful Bento-Box meals now a days where all of the food in the child's lunchbox is made to look fun and friendly to eat. Same can be carried over here, and you could even do it ahead of time! PB & J sandwiches, cut in rounds with a cookie cutter (or turn over a small cup and use that to punch holes in the pre-made sandwiches), arrange it on a plastic plate with cucumber legs and a cheese or fruit head and VOILA, an adorable-themed meal and no clean up!
We have two cake ideas, but I compiled so many more. A simple cake with a edible screen printed on top of our famous crawly friend, OR, a few simple cupcakes arranged artfully- easy! I also saw plain decorated cupcakes with gummy worms on top, or even some where the mom went to town and rolled the caterpillar and some fruit for him to eat out of fondant.
The skies the limit! What party idea are you just dying to try out?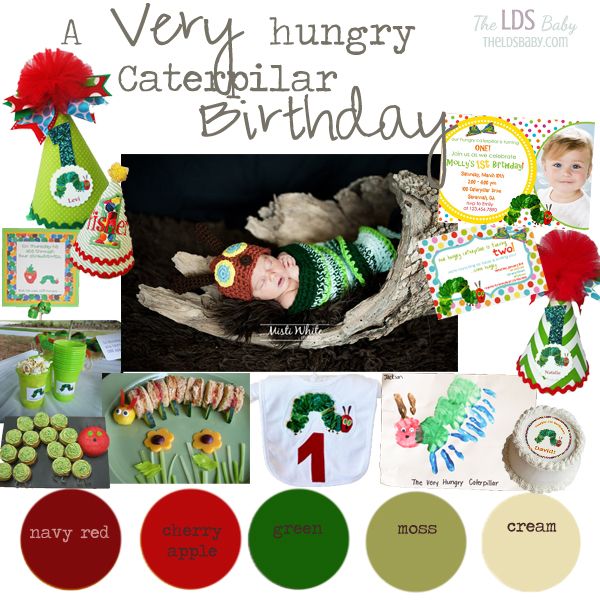 Shopping List
Of course, the link to purchase your very own copy of the book, OR a coloring book- photocopy the pages and your art project is ready to go! Don't forget to read the story at the party, too!
Caterpillar Artwork with Handprints
by Scissors and Spatulas,
Caterpillar Cupcakes with Fondant Mini Cake Head
by Chocolate Suze,
Plastic Green Cups with Labels
by Everything by Twos,
Hungry Caterpillar Bento Box Style Lunch
by Rindy Mae,
Text and Artwork Only Invitation
by (Etsy),
Invitation with Photo
(Etsy),
Party Hat with Name Embroidered- "Fisher"
by Dainty Couture (Etsy),
Party Hat
by Little Pink Tractor (Etsy),
Green Party Hat with Red Top
by Little Pink Tractor (Etsy),
Caterpillar 1st Birthday Bib
(Etsy),
Birthday Cake Topper
(Etsy),
Cocoon Baby Wrap
by Babies, Bugs & Bees (Etsy),
Photography for Cocoon by Misti White Photography, with many thanks for sharing!
- Emily